Home to Heaven
Home to Heaven

Home Euthanasia Services in Birch Run
Deciding it is time to let a beloved old or sick pet go is one of the most heart-wrenching decisions that families have to make. That's because your pet is a much-loved family member. Unfortunately, its an issue that faces many of us as caregivers of aging and ill pets. We realize it is one of life's most difficult decisions. We are here to help you in the comfort of your home during this difficult time. Please call our office at 989-652-6689 for more information about our home euthanasia and aftercare services.
Call to Request Home to Heaven Appointment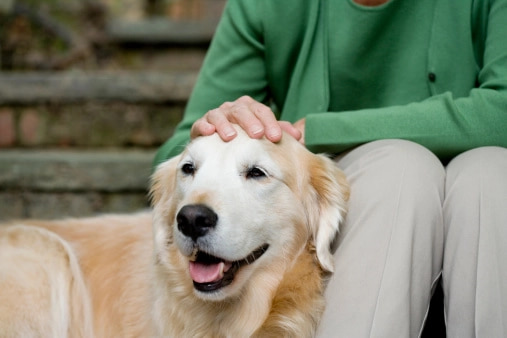 Why do we provide in-home euthanasia services?
Because that is what we would choose for our pets.
What to expect: The word "euthanasia" literally means "good death". Veterinarians are the only medical professionals licensed to perform this service. We feel honored that you are considering our clinic in providing your family with this most important gift. We take the utmost pride in the technical, medical and comfort providing skills associated with gently ending the life of a beloved family member.
At-home euthanasia services include:
– a discussion with you about your concerns, thoughts, and questions surrounding euthanasia
– a mild sedative to help ease any discomfort and anxiety. You deserve one last memory of your pet calm and comfortable.
– euthanasia, the final gift
– transportation for cremation (cremation fees are additional)
– notification to your family veterinarian of your pet's passing; a professional courtesy so they can update their records
The Appointment
The entire procedure will be explained once the veterinarian arrives. Feel free to ask as many questions as needed for you to feel comfortable. Everything will be done at the pace you and your pet dictate. The actual procedure is very peaceful. A sedation injection will be given to ensure your pet is comfortable. Once you and your pet are ready, the final euthanasia medication is given, usually in a vein. It works very rapidly in most cases. The veterinarian will then confirm that your pet has passed. After, you may continue to spend as much time as you need with your pet. If we are providing transportation for cremation, the doctor will excuse himself for a few minutes to give you time alone, then return with a small basket or a flat stretcher and soft blanket to transport your pet to the car. Information on how and when your pet's ashes will be returned home to you will be discussed in detail. Additionally, information on where the crematory inters communal ashes or how to bury your pet properly at home can be provided.
Again, thank you for considering us to help your family through this most difficult time. We consider it an honor and privilege to serve you.
Call to Request Home to Heaven Appointment